NRK Telethon 2023 supports Save the Children - we want to contribute
Editorial staff
Cegal want to build a stellar nextgen tech company that enables a more sustainable future, and shape the digital future by turning complex IT into digital success stories.
The NRK Telethon organized by the Norwegian Broadcasting Corporation (NRK) is an annual tradition. It is the world's largest volunteer effort. This well-known and beloved tradition involves all Norwegians in raising funds for a charitable cause. For 2023, the fundraising is dedicated to Save the Children, a cause particularly close to our hearts.
"As a father of two, there are few things I find more difficult to read and hear about than children in frightful or horrendous situations. And there are few things I find more meaningful to support than children in need," writes our CEO Dagfinn Ringås in a post on our intranet. And this summarizes why we engage with Save the Children and why we are eager to contribute to the fundraising this fall.
Meaningful work
For us at Cegal, meaningful work is essential, even though what feels meaningful may vary depending on who we are, where in the organization we work, or which office and country we work in. That's why Cegal employees can engage in various tasks and projects related to diversity, sustainability, and humanitarian work.
One of these projects is the collaboration we have with Save the Children through Humanity at Cegal. The TV fundraiser is a natural part of this project, and we have several things in progress during the campaign period to support this cause. Like Dagfinn, we all feel the pain of knowing that children are suffering, and even though no one can do everything, everyone can do a little, and we will do our part. The campaign period started on 9 October and runs until 22 October when the major fundraising event with the national broadcast takes place. The beginning of this period, as we all know, was marked by the escalation of the conflict in Israel and Palestine. Regardless of where one stands on the conflict itself, it is hard to disagree that Save the Children's work in protecting children in war is especially relevant.
We have recently entered into a partnership with Save the Children and are their first EdTech partner in Norway.
Read more about our partnership with Save the Children here >
How We Work
The NRK Telethon and Save the Children are professional entities and provide excellent support for us as contributors. We have tried to contribute as much as we can according to their recommendations. Fundraising takes place in various arenas, involving individuals, businesses, and other stakeholders. Therefore, we have three main areas of focus.
Digital Fundraising Campaign among Employees
Our employees have generous hearts, and their willingness to share is significant. We have initiated a digital fundraising campaign on Spleis where employees contribute an amount of their choosing. Cegal has committed to matching the sum contributed by employees, kroner for kroner, making it a true joint effort. To generate engagement among employees, information about the campaigns is available at our offices in Norway, and there might even be some challenges for both the management and others if we reach the milestones we've set for fundraising. If that happens, you can be sure that they will be duly covered in our social channels!
Mobilization of door-to-door fundraisers
7,000 door-to-door fundraisers across the country will be in action on October 22, visiting a total of 2.5 million households. Among these, you will find Cegal employees. To encourage as many as possible to contribute, we urge employees to spend two hours on that Sunday going from door to door. Door-to-door fundraisers have been a part of the TV fundraiser for as long as it has existed, and even though a significant portion of fundraising is now digital, this remains an essential contribution.
Contributions from the business sector
Business entities play a significant role in the total amount raised for Save the Children through the TV fundraiser. We contribute by having three of our employees with extensive networks, Dagfinn Ringås, Emilia Plizska, and Frank Garneng participate in the phone drive. This involves them making calls to individuals and businesses within their networks, encouraging them to donate to the TV fundraiser. This is the most profitable activity for businesses that want to contribute, and we trust that these three will ensure substantial amounts are donated to the campaign.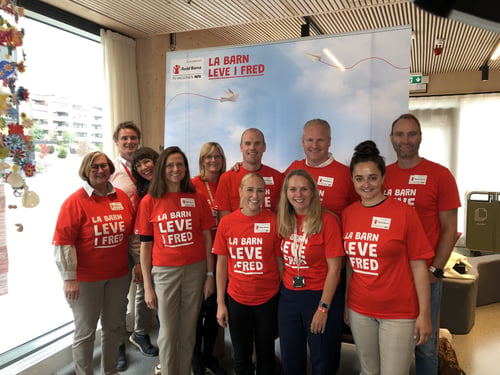 Why We Engage
Engagement in humanitarian work is complex. Many factors play a role in the motivation and commitment of each of us to contribute. For Cegal as a company, it's the same. There are many reasons why we contribute. One of them is, of course, that we find ourselves in a position that makes us feel a responsibility to help those who are less fortunate than we are. Another reason is that it creates meaningful tasks and motivation for employees. A third reason is that we believe this is closely related to our sustainability strategy, where social responsibility is one of the cornerstones.
Read about how we work with sustainability and taking social responsibility >
Meaningful Work at Cegal
In addition to humanitarian work, our employees engage in efforts to improve gender balance through our partnership with the ODA Network, and Women at Cegal, an internal network for our female employees. Recently, a committee was also established to work on diversity and inclusion related to sexual orientation, gender identity, disabilities, neurodiversity, and mental health.