What does a typical workday look like to you?
As a developer, my workday is mainly driven by Jira (software for project management and issue tracking), the communication platform Slack, meetings on Teams, and my inbox. I develop database objects in Oracle SQL Developer and the user interface using the Oracle APEX (Application Express) framework. Oracle APEX has no licensing costs but is part of the Oracle database. In many ways, I am what is now called a Fullstack developer.
Which technologies do you work with?
In terms of technologies, I have mainly worked with various Oracle technologies as an integration architect and developer in recent years. Currently, I work as an application developer with Oracle APEX. I am the chairman of the Oracle User Group Norway and also a board member of the European user association EOUC.org, so there is a lot of Oracle in my work.

As an integration architect enthusiast, I have learned about Kafka, which I believe would solve many of the integration problems that our customers struggle with. For example, in situations where the same data flow needs to go to different systems and all the control mechanisms need to be created to keep track of who gets what, with sending and resending in all directions, Kafka would give the recipient control. I like that!

I have also become aware of how JavaScript can be used in Oracle APEX to provide a modern user interface for the application and have taken a course on it. Oracle APEX also has its own library of UI components that I use.

Read more: Cegal is the largest Oracle competence house in the Nordics >
What drives you at work and in your role, what's fun?
"Learning new things every single day is my great driving force. Keeping up with new technology. Helping customers get the most out of their investments."

Ann-Sofie
What is the best thing about working in Cegal?
The warm tone among colleagues is probably what I like the most. If you need help, there is always a "superhero" available. As we are a knowledge-based company, learning and knowledge sharing are in focus. For instance, we have a pool of time for self-training that can be taken during working hours. The merger between Sysco, where I came from, and Cegal has gone smoothly with a move to fantastic premises that are the icing on the cake
Read more about how it is to work at Cegal >
During OUGN (Oracle User Group Norway) 2023, you were recognized as an Oracle Ace - can you tell us a little about this?
The Oracle ACE program recognizes and rewards individuals for their contributions to the Oracle community. These technical experts and community leaders share their knowledge and experience through presentations, writing blog posts, articles and books, sharing knowledge on social media, writing code, answering questions in community forums such as Stack Overflow, volunteering in an Oracle User Group, organizing conferences and meetings.

I have been volunteering for many years in Oracle User Group Norway, in recent years as the leader of the board. I also write articles for the magazine http://Oraworld.org and am a member of the board of EMEA Oracle User Community.

For this work, I received the Oracle Ace Associate award during OUGN2023.
Read more about the OUGN2023 conference here >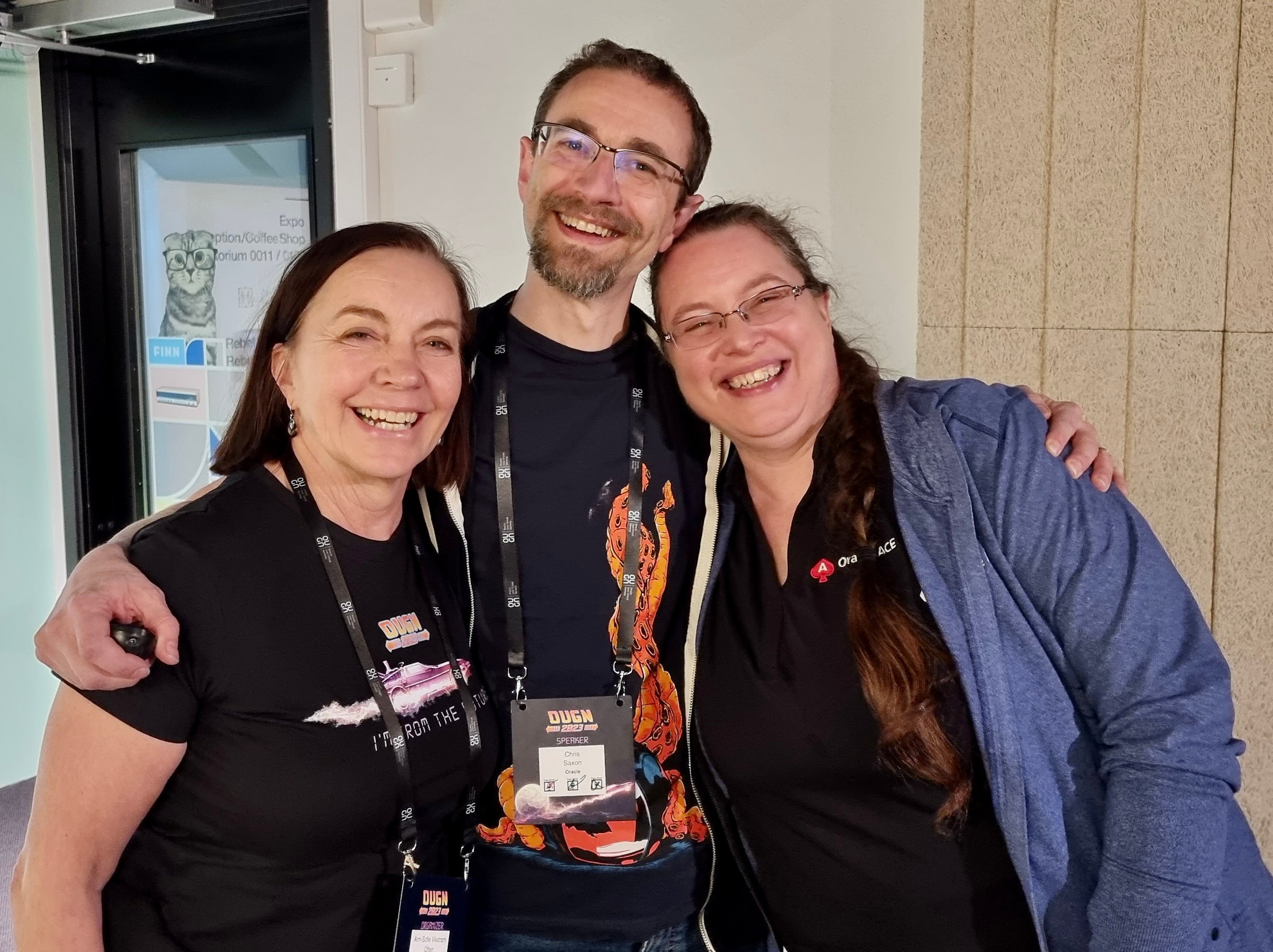 In the picture from OUGN2023, Ann-Sofie, Chris Saxon, Oracle, and Heli Heskyaho from Miracle OY, ACE Director are present.
In 2020, you were named one of Norway's 50 leading women in tech! An award presented by Abelia and ODA Network. How was it to receive such recognition?
It was the highlight of the year and came completely unexpectedly, just before Norway closed down due to Covid-19. Such an award makes me proud and happy. I am in good company and have had the pleasure of working with several of the other 50 talented women who received the award in 2020 over the years.

Read the article here: SYSCO woman named one of Norway's foremost (Norwegian) >
As a woman in a male-dominated industry, have things changed over the years you've been in the industry?
I have worked as a consultant for almost 30 years, mostly in system development. In the beginning, there were more female technical consultants than there are now. So it wasn't particularly male-dominated, except in management. There wasn't much focus on women in the IT industry, diversity was natural, and we took it for granted without trying to showcase ourselves in any way.

Over time, my female colleagues disappeared. Not much was done to attract younger women to the IT field. There were not many channels, articles, and lectures on this topic as we have today. The result of the technical female exodus from the IT industry means that there are not very many female role models. At Cegal, we have a goal of increasing the proportion of women and working systematically towards it, even though it is challenging to find female technicians.

What is your favorite quote?
I got this quote from my sewing teacher. It's like she's sitting on my shoulder, reminding me that the inside should be as beautiful as the outside, if I try to take a shortcut.
"Quality means doing it right when no one is looking"

Henry Ford