Cegal will hire a new colleague every day
Editorial staff
Cegal want to build a stellar nextgen tech company that enables a more sustainable future, and shape the digital future by turning complex IT into digital success stories.
In 2021, Cegal hired a total of 170 new colleagues. This year, recruitment specialists Anette Holthe and Frank-Arild Normanseth expect to onboard up to 200 new colleagues.
– Cegal is growing, however, while we are growing we are striving to keep the entrepreneurial culture with a flat structure, and lots of energy and positivity. It is and should always be fun to go to work with us, says Anette Holthe", Recruiting Specialist at Cegal.
Frank-Arild Normanseth, who works with Anette Holthe in the HR department, adds:
– Those who come onboard will also help shape the way forward. Our ambitions are sky-high, and the solutions come from the people in the company. In Cegal, you have a great deal of influence and are constantly involved in influencing your own and others' workday.
Last autumn, Cegal and SYSCO merged into one of Norway's largest IT companies with more than NOK 1.4 billion in turnover and a total of 843 employees in eight countries. The goal of the "new" company is to become the world's leading technology company for the energy sector.

200 new colleagues in 2022
If the goal is to be reached, more talented people are needed. Recruitment specialist Holthe has the plans ready for Cegal to have at least 1,000 employees by the end of 2022. This means up to 200 new employees during the year. Holthe says that most of the new employees will be consultants and that the employments can come in all countries and across all disciplines.
Although in practice this means a new employee per working day, it is not far from the number of new employees who came on board in 2021. A total of 170 new consultants, project managers, developers, solution architects, solution salesmen, business consultants and managers joined Cegal last year.
Skilled people attract talented colleagues
– How do you at HR manage to get hold of so many people in a vacuumed market?
– We have had great success with network recruitment, where employees tell us about good friends and acquaintances they would like to start working in Cegal. Our employees are our best ambassadors", Holthe answers.
Skilled people attract other talented people.

Frank-Arild Normanseth, Cegal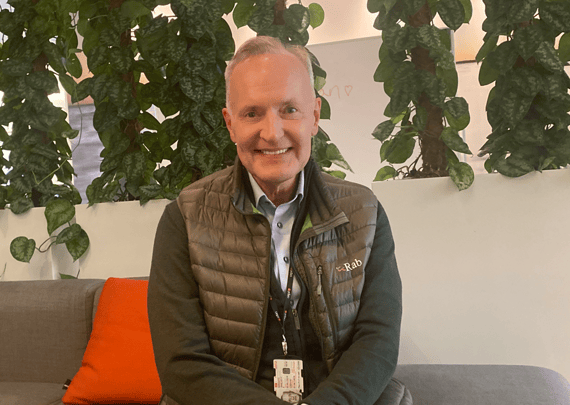 Frank-Arild Normanseth (pictured) lists three reasons why many consultants want to work for Norway's new IT giant:
The employees have great freedom to shape their role, which customers and projects they will work on and which technologies they will work with.

We work with new technology: Our three most important technology areas consist of cloud platforms and integrations, data analysis and data flow as well as Microsoft and Oracle technology.

Diversity: Cegal works targeted to get more women into the technology industry and to work in Cegal. This applies not only in "soft" roles such as HR and marketing but just as much in the "hard" roles. At the same time, Cegal works to recruit people with different backgrounds, such as age, experience and culture. Today, the company has employees from 30 different nationalities.




Pays students and needs trainees
Of course, Cegal also uses regular channels in search of new technological talents with job advertisements in various media, active searches and more.
– We also have good experiences with summer internships, trainees and we make it easy for students to combine their bachelor's and master's degrees with working with us", Normanseth continues.
Below you can see what competence, experience and/or background Cegal is especially looking for now. If you own one or more of these, feel free to contact us.
People with experience from the energy sector, especially with renewable energy.

People who know cloud platforms like Microsoft Azure, AWS, Oracle Cloud and Google Cloud Platform.

People who knows data analysis, Big Data, reporting, Power BI, AI / artificial intelligence.

People with expertise in data flow technology such as Kafka.

Project managers and business consultants who understand what Cegal is doing, who know technology and know the business needs of relevant industries and industries.

Operating personnel for data center operations.
Cegal's goal is that half of the turnover will be related to renewable energy by 2027. This will of course be reflected in the new positions to be filled.
Although the goal is to become the leading technology company with energy as our speciality, we will not only have customers in the energy sector.


Frank-Arild Normanseth, Cegal
–We have and will have customers in other industries, not least to offer our employees broader job opportunities", recruitment specialist Holthe emphasizes in the end.