What does a typical workday look like to you?
I live in Fredrikstad and have been commuting to Oslo for almost 20 years. A typical workday involves various conversations with both customers and partners. It ranges from discussions about different Oracle products and solutions with customers, to writing proposals and signing agreements with them. In addition, there are many internal meetings where new Oracle projects are discussed with our customers.
Read more about our Oracle Tech Product Excellence here >
Which technologies do you work with?
I have been working with Oracle technology since 1998. My formal role is Oracle Sales Manager, but I like to call myself an Oracle Advisor. The role is basically about being a "Trusted Advisor" for our Oracle customers and ensuring that they choose the right type of Oracle technology, at the right price and with the right agreement.
In recent years, we have worked a lot with helping existing and new customers move their Oracle On-Prem solutions to various Oracle Cloud solutions.
Read more about how we helped Wallenius Wilhelmsen to the cloud here >
Oracle CloudWorld in London last week:
We recently visited Oracle CloudWorld in London with 15 Norwegian customers. Here we spent 2-3 days together, learning about many new and exciting technologies and customer projects that our Norwegian customers will also use in the near future. Such trips are important for both us in Cegal and for the customers. Primarily to get ideas for implementing new Oracle solutions but also for building great customer relationships.

Read more about Oracle CloudWorld here >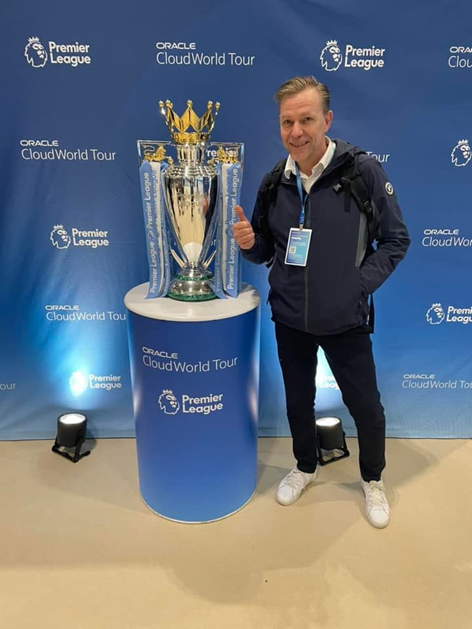 From the trip to London and Oracle CloudWorld last week where I met the Premier League Trophy!
What drives you at work and in your role, what's fun?
I enjoy being in customer meetings and meeting people.
One of the first mantras of our CEO Dagfinn Ringås was that we should become a "legendary company" and get customers to sell Cegal to other customers. I feel that our Oracle team in Cegal has achieved this! It is extra fun to work with customers and you get a lot of energy to do the same for even more.
"The best thing is to receive positive feedback that we are doing a good job or that we at Cegal are delivering more than expected to our customers"

Ole Petter
What is the best thing about working in Cegal?
I enjoy being around people, so getting out and meeting new people is always nice. Another thing that is great about Cegal is that there are incredibly talented people in the company.
Read more about how it is to work at Cegal >
What is your favorite quote?
It must be "You Never Walk Alone" - not just because I'm a Liverpool supporter, but also because I think it's a motto that we as humans should stand for, whether it's about friends, family or colleagues.
"You Never Walk Alone"