NRK first in the Nordics with Oracle Business Intelligence in the cloud
Editorial staff
Cegal want to build a stellar nextgen tech company that enables a more sustainable future, and shape the digital future by turning complex IT into digital success stories.
Easier, faster replies, always enough capacity and always updated on the latest version. These are the results for NRK after they moved their entire Oracle BI solution, including data warehouse and development environment, to the cloud.
NRK is one of Norway's largest companies. The media group has approximately 3,400 employees, revenues of close to six billion NOK and around 50 offices around the country. NRK's ​​content is used on all platforms; on linear TV (largest in Norway) and on radio (largest in Norway), but also via the web, mobile and in social media. NRK is currently experiencing strong growth in the use of its streaming services.
Oracle BI provides the overview
To meet the needs for overview, reporting and analysis in finance, internal trade and HR/personnel administration, NRK has chosen the Oracle Business Intelligence platform (BI). The BI solution will cover the needs of all units at all levels in the company, and it is available to all employees(!).
The reports are set up as dashboards with many possibilities for user-controlled adjustments through drilling, filters, etc. The report committee covers all types of accounting reports, staffing overviews, absence analyses, project and production reports and more.
NRK has a full Oracle architecture where all the components of the solution run in the cloud. It includes Business Intelligence, ETL (extraction, transformation, loading), Oracle Analytical Cloud, Autonomous Warehouse Cloud, Oracle Data Integrator, Oracle Object Store – in other words, solutions for data analysis, data warehousing and storage.
First in the Nordics
The cloud migration took place with NRK's ​​own Oracle experts in the driver's seat, with assistance from SYSCO, and in line with NRK's ​​technology strategy. Until fall of 2019, the solutions with associated databases were operated on internal servers at NRK.
"By moving our Oracle platform to the cloud, we've got a lot more for the same cost"

Geir Hauge, NRK
A full transition from on-prem servers to the cloud is a complex and risky operation. In the Nordic countries, there are no companies that have made a similar cloud lift. Nevertheless, cloud migration has been relatively painless and today NRK's ​​Oracle platform has been operating from the cloud for almost a year without any problems. With the cloud lift, NRK has got the Nordic region's first full-scale Oracle Business Intelligence platform in the cloud.
NRK's cloud specialists
NRK's ​​own employees, led by Anjum Gondal (project manager) and Shalini Chandrasekaran, have led the cloud migration, where SYSCO has helped with capacity and expertise. Gondal and Chandrasekaran are among those in the Nordic region with the most expertise on Oracle's BI platform. In addition, they have in-depth knowledge of NRK's ​​processes, and the applications used. This has been absolutely crucial to the success.

"NRK is a customer with very competent employees. This has been important to ensure the success of the cloud migration", says Kjetil Rytter Myrseth, head of AI and analysis at SYSCO.
"In addition, it is in the cloud that the largest and fastest development of the solutions takes place. For Oracle and all major software vendors, it is 'cloud first' that applies", Rytter Myrseth adds.
The cloud gives value for money
"At the same time, the solution is scalable. When we need more capacity, we have it in the cloud. We do not need to build an expensive solution in our own data center to handle the highs", says Geir Hauge, head of Business Analysis in the Finance Division at NRK.
SYSCO has worked with NRK for five years and has supported the customer with both capacity and expertise. SYSCO has assisted NRK's ​​own resources with development, maintenance and technical upgrading of infrastructure.
"SYSCO has been a good partner in the entire moving process for us, both by making its top expertise available to us, and by being flexible and efficient in being there for us when we needed it."

Geir Hauge, NRK
"There have been many short appearances and it has worked out great, not least thanks to the high professional competence we have in-house, Hauge adds.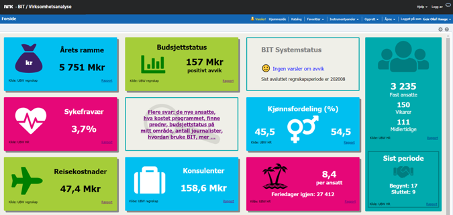 Oracle Business Intelligence provides NRK with an overview, reporting and analysis within finance, internal trade and HR / personnel administration. With the cloud solution, all employees can access the dashboard. Photo: NRK.