Cegal helped Tradedoubler on the journey to Oracle Cloud
Editorial staff
Cegal want to build a stellar nextgen tech company that enables a more sustainable future, and shape the digital future by turning complex IT into digital success stories.
With the help of Cegal, Tradedoubler was able to move up to
Oracle Cloud
, which has contributed to a more fuss-free workday than how it was before the move. At the same time, performance has increased, and costs have been reduced.
"Before the migration, the physical hardware was administered by a third party and the service was very poor, incidents were a nightmare of wasted time and frustration," says Alan McGinlay, Head of IT Operations at Tradedoubler.
Tradedoubler is a Swedish online marketing company that works with affiliate marketing, which is a form of performance-based marketing. They have a large network of advertisers and publishers, where publishers get paid by generating customers and visitors to the advertiser's website.
Old hardware created problems
Alan McGinlay says Tradedoubler's legacy solution was operated on a very old hardware that would have become too expensive to replace and licenciate. It also lacked scalability, which made the workday a hassle as their application platform evolves over time.
In addition to the above, Tradedoubler had a desire to save costs and get a more agile workday in the cloud with the latest technology.
"We knew we needed to do something about this and decided to move up to Oracle Cloud," says Alan.


MultiCloud became the solution
Cegal solved the challenges by developing a target Cloud blueprint in close collaboration with Tradedoubler that focused on risk reduction during migration, while it would be easy to operate after they had gone live. Blueprint involves getting a set of ideas, best practice and standards related to a cloud migration project.
"At first we considered moving the database to AWS RDS (Amazon Relational Database Service), because we had an AWS strategy, but because of Oracle licensing, this would have been far too expensive," says Alan.
Tradedoubler still has AWS but is instead connected to Oracle Cloud with AWS as a MultiCloud solution.
Many benefits with Oracle Cloud
Alan says they are pleased that the cloud solution will give them the flexibility to grow and change their business as needed for the foreseeable future. The cloud move has also forced them to update some applications and migrate to more secure best practice.
We now have full control over the delivery of the database service, even though it is no longer on-prem but cloud-based. We still feel that it has given us authority over the system, something that was missing in the management of the on-prem setup we had.

Alan McGinlay, Tradedoubler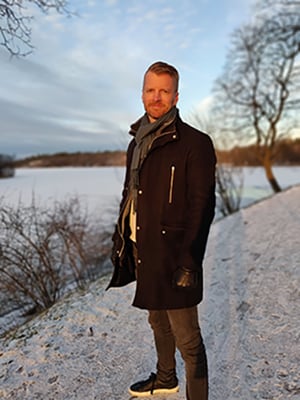 Alan McGinlay from Tradedoubler


Through this MultiCloud solution, Tradedoubler has now received an Oracle database with the latest version and improved performance. Incidents have also decreased, and it is much faster to return to operation if an application has caused problems.
"Now we also have much better cost control because we can predict them more accurately in the cloud," says Alan.
A no-brainer to hire Cegal
Tradedoubler got to know Cegal back in the Upbase era, before they became part of Cegal, so they have been working together for several years. That Cegal would help us with this cloud move was a matter of fact, says Alan.
The collaboration has truly been better than we could have imagined, the Cegal consultants are so knowledgeable and it feels like they are part of Tradedoubler
Alan McGinlay, Tradedoubler
Valuable lessons on the journey to the cloud
When you carry out a project, there is always something you learn that you can take with you into future projects. As for Tradedoubler, Alan says the following:
Planning is everything. Although the experience of moving a large service to the cloud is difficult and can come with unexpected challenges, with the help of Cegal we were able to make it a success and learned some valuable lessons along the way.